4 Day Madagascar Lemur Fever
Booking Dates
12/29/2022 through 12/25/2023
Travel Dates
01/01/2012 through 12/31/2023
Provider
Kensington Tours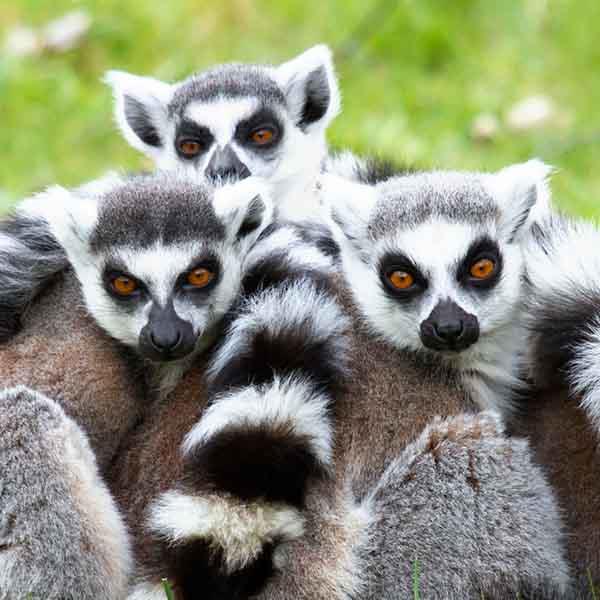 4 Day Madagascar Lemur Fever
You wake suddenly, sure that the haunting, melodic wail was a figment from your dreams. As your eyes adjust to the darkness around you, you hear it again; this time carried through the trees from a distant part of the forest.
Travel to the Andasibe & Mantadia National Park to explore the Mecca of lemur conservation. A variety of lemur species thrive in this National Park as well as across the entire island. Hear the wail of the indri echo across lush rainforests; watch playful sifakas dance atop ochre-colored earth; and catch a glimpse of ring-tailed lemurs move nimbly through the trees. In the evenings, relax in cozy hotels and lodges that offer modern amenities and all the comforts of home.
Hike the rainforests of Andasibe-Mantadia National Park past shimmering waterfalls and vibrant flora while listening to the distinctive songs of the indri lemur. Other lemurs may be spotted as well including the red-bellied lemur, brown lemur and lesser bamboo lemur. The park is also home to nocturnal lemurs – brown mouse lemur, greater dwarf lemur, eastern woolly lemur, sportive lemur and if you are a lucky one, you might see the elusive nocturnal Aye Aye. If you've got lemur fever, we've got you covered.
Kensington Tours offers local support in each region you visit, another reason we deliver unbeatable value. Enjoy a personalized vacation that best suits your needs, developed by one of our experienced destination experts. Relax during your trip with our 24/7 support and expert local guidance.
| Day | Description | View All |
| --- | --- | --- |
| Day 1 | Antananarivo | Details |
| Day 2 | Antananarivo To Andasibe-Mantadia National Park | Details |
| Day 3 | Andasibe-Mantadia National Park | Details |
| Day 4 | Andasibe-Mantadia National Park | Details |